5 Jan, 2009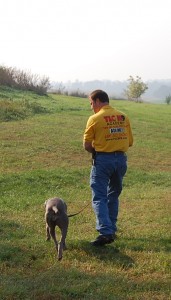 It's already a week into the New Year, and the new exercise program has already been given second thoughts right? No, stop. Let's make this fun this year. Let's make this about going out and having some fun with the dog, AND getting into a great exercise routine.
Take the 21 Day Walk Your Dog Every Day Challenge!
Seriously, it is true that if you practice something for 21 days in a row you can make it a habit. So, lets all get some exercise for you and the dog. Most of us dog owners know that we really should get the dog out to walk every day. But instead we do things that seem to take the place of it. Like throw the ball for the dog 10 times or so, or even take the beloved family dog to the "dog park", stand there and watch him run around… or not.
The great thing about this challenge is if you do it, you will see great improvement in your dog's behavior. That's right, by go on a minimum 20 minute walk a day with your dog you can get the calm, happy trained dog you had hoped for.

Why is it different to take the dog on a walk then throw the ball or let him run around the dog park?
Well, its simply a matter of leadership. Walking with your dog allows you to practice heeling, walking (or running) with a loose leash, and the attention of your dog to sit at street corners, stop when you do and go when you do.
There's lots of cool stuff to do with your dog on a simple 20 minute walk and if you do it daily (starting with our 21 day challenge) you will feel great as well.
So, starting tomorrow, get up, get the dog, and get out and walk 20 minutes for the first day of the 21 Day Walk Your Dog Every Day Challenge.
Follow us on Twitter at www.Twitter.com/GoTrainYourDog for fun tips and tricks we are doing daily.