19 Feb, 2009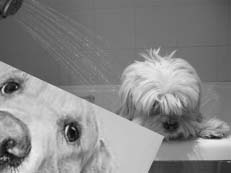 As a professional dog trainer I hear all the things dogs don't do well. Many times its seems as though its the simplest things that seem to be the hardest. For instance the number of dogs who don't like to get a bath. Incredible but true.
As a professional dog trainer with an exclusive dog training camp in San Diego and Temecula, CA I've got a lot of really simple answers I like to share with people. The bath thing perplexes people and so when I tell them about this trick, I hear how I am genius when it comes to dogs!
Peanut butter. Yep. It's that simple. Peanut butter. As always I feed my dogs all natural dog food and highly recommend you do this, as well. It really will improve your dog's health and longevity. But back to the peanut butter and dog bath trick.
Get yourself all set up at the bathtub with dog shampoo, water ran and whatever other paraphernalia goes along with the dog bath. Then get your dog ready to enter the water, right before you put peanut butter all over the faucet of the tub! What a great idea huh! You'll find your dog licking away at the awesome treat and forgetting about the problem with the bath.
Some dogs can turn into little piggies so don't be afraid to reapply. It won't be long and your dog will love bath day!  Associating something good with something that didn't seem so cool before, can do wonders as a dog training trick for the simplest of life's obligations. (uhhh for people too! yes, people are really that simple as well!)
K9 Coach brings the simple to the complex and those who have had private lessons, or dog training camp, with access to the online dog training community created by Jt Clough find that a trained dog is a very easy thing.  We focus on making behavior modification easy and getting a dog that responds to your every need absolutely rocks!
For more info contact K9 Coach San Diego. Give us your most perplexing dog training problem and make your life a whole lot easier.
Follow us on Twitter for dog photos, dog training tips & tricks, and cool dog news at www.Twitter.com/GoTrainYourDog