24 Dec, 2009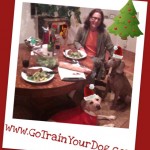 Christmas Eve in San Diego…. awwww… it may not be white but plenty of outdoor activity abounds.  K9 Coach wishes you a great day with family, friends and of course the dog.
Get outside for a bit and enjoy some fresh air, some refreshing exercise and possibly even a trip to Del Mar Dog Beach.  Its beautiful.
With the holiday usually comes lots of great food around the house.  Here are some REALLY important tips on common foods that can be harmful to your dog's health.  If you have a dog or know dog loving people make sure to take note and send them along for the health and happiness of everyone this holiday season and into the next….  Wag!
Holiday Dog Food Safety Tips

How To Remove Urine
6 Easy Steps for a Proven Method of
Urine Removal. Freedom is Possible!
San Diego Dog Training Camps and Private Lessons
Online Health and Fitness Training Programs (*New fitness programs starts Jan 1)