22 Dec, 2009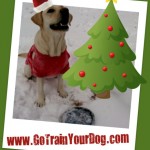 A well trained dog and how a dog trainer views it…. especially in America's Finest City… dog friendly San Diego….
Comments when a dog trainer like myself shows up at a gathering about how a person's dog is bad or they haven't worked on "obedience" often come up.  The relief that comes over people's faces when the response from me is the focus on obedience isn't the biggest deal in the end is awesome.  How many things do you feel comfortable doing with your dog?  Taking your dog and going to do fun things, whether its a trail run, a walk or going to some really cool dog friendly event is what its really about.
The best time to practice having more fun with your dog is now… so here are some events this week that your dog is invited to and you get the benefit of enjoying some good ol' holiday cheer!
Canines N Cocktails – December 22
Dog Happy Hour – December 23

How To Remove Urine
6 Easy Steps for a Proven Method of
Urine Removal. Freedom is Possible!