14 Feb, 2010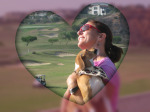 You are what you think about.  You are what you eat.  How many times have you heard these things?  Many times most likely.  Actually practicing it is another thing.
I found this fascinating quote today:
Since the dawn of the printed word, the consciousness of society has been shaped by those who dispense the information. Yet this generation stands alone in having the democratic power to dispense its own information and shape its own consciousness. However, as much power as we have to distribute our own media, we hold an even greater power yet, the power that we have had all along, the power to control which media we entertain. Now more than ever, our consciousness is ours to shape. Let us shape it onto something magnificent.modernhippiemag.com, Your Daily Groove – Shaping Our Consciousness, Feb 2010
Get coaching for you and your dog for more enjoyment through doing things together.
Wag more!